Gold Membership
From EEWiki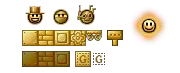 Gold Membership is a purchasable premium service which temporarily gives the player several gold-related features, serving as a replacement for Builders Club. Some of these features include four Smileys, eleven tiles, a new Aura color, a new Aura shape. Gold Membership was added February, 2016, the same update Builders Club was removed. During the update, all users with Builders Club were given Gold Membership instead.
"Earn yourself some metallic gold items by donating to the game! Membership includes gilded smileys, blocks, aura color, and more!" -Shop description
History
Gold Membership membership was announced by Nou on November 10, 2015 in a topic discussing the future of Everybody Edits.[1] According to the post, the Staff decided to replace Builders Club with Gold Membership to encourage more freedom in level creation. It was revealed that new smileys, an exclusive gold smiley border, a new aura, new blocks, a gold Crew faceplate, an exclusive lobby skin, as well as potential future features would be given to Gold Membership users.
Gold Membership was added on the v206 update on February 10, 2016.
The 1 year option for Gold Membership was removed on the v233 update on June 23, 2018.
The 6 months option for Gold Membership was removed on the v243 update on October 31, 2018.
The 3 months option for Gold Membership was removed on the v245 update on November 26, 2018.
The 1 month option for Gold Membership was removed on the v264 update on December 4, 2020, removing completely the purchase of Gold Membership.
Features
Gold Membership grants the player the following:
Ornate aura and golden aura color
Golden sign
Golden crew faceplate,
Aside from the Gold Membership gate and door tiles, Gold Membership does not offer any unique functionality.
Prices
Unlike beta, Gold Membership is not permanent when purchased, though it can be extended with another purchase. These are currently four different prices in the shop, each with a different duration.
| Duration | Cost in gems |
| --- | --- |
| 1 month | 40 |
As with most items in the Shop, Gold Membership's price is halved during Black Friday. For prices that are odd numbers, this amount is rounded up.
References