Gold Membership
From EEWiki
Gold Membership or GM, introduced on February 10th, 2016, is a purchasable feature that gives users golden items. It replaced Builders Club.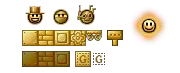 "Earn yourself some metallic gold items by donating to the game! Membership includes gilded smileys, blocks, aura color, and more!" -Shop description
Features
List of features that GM grants you:
Ornate aura and golden aura color
Golden sign
Golden crew faceplate
Duration & Pricing
Unlike beta, GM is not permanent when purchased, but it can be repurchased. These are currently available durations:
| Duration | Cost in dollars | Cost in gems |
| --- | --- | --- |
| 1 month | 1.50 | 13 |
| 3 months | 3.00 | 30 |
| 6 months | 5.50 | 55 |
| 12 months | 10.50 | 105 |
Black Friday & Sales
On Black Friday, which occurs every November (for exact date please follow the link), most of items in shop occur 50% cheaper. Typically, GM price is cut in half as well, this includes ALL durations.
Notes
If you had Builders Club on GM's release, you were exchanged GM for BC.
Golden smileys can have golden borders on/off, just like normal smileys.
GM can be repurchased even when it hasn't expired yet. For example: if you have 5 months left of GM and decide to buy 1 more year, you'll have 1 year AND 5 months membership.
GM gates/doors for GM members are always opposite of non-GM members. What is open for GM players is closed for other players.
Tips
See Also: Gems
Here are some useful tips and/or guides if you want to get GM for the least amount of money:
$0.50/year trick
This is not a big deal but if you're planning on going pedantic then you could use this trick. In short: buying gems for GM > buying GM directly. Explanation: 1 year GM costs $10.50 or 105

in shop, but you can buy same amount of

for 10$ which is half a dollar cheaper.
Final results - Duration: 1 year ... Cost per Month: $0.83
However, if you're planning on buying 2 years membership then results are the same, but you get extra gems to keep! Please note that for this technique you need to buy 1x 220 gems not 2x 105 gems!
Final results - Duration: 2 years ... Cost per Month: $0.83 ... Bonus: 10

Login streak trick
Let's start off with the math: You get gem reward every 7th day you login and circles from 1, 2, 3 then back to 1, which equals 5

per 21 day. On Black Friday, price of GM is reduced to half and rounded up which equals 58 gems for 1 year. That being said, if you finish 11 full circles, each circle being 21 day long, and 2/3 of the 12th circle, you'll have enough gems for 1 year of GM.
In short: you need 245 days login streak - wait for Black Friday - buy 1 year GM - repeat. Don't worry, it doesn't matter if you lose your login streak, you can still have enough gems if you don't login ~120 days per year!
Final results - Duration: Forever ... Cost per Month: Free
Common Misconceptions
"You gain energy faster with GM!!" - Nope, this is wrong, every player generates energy equally, at the rate of 1 per 2:30 min. Only staff can make your account generate energy faster, but this is only used in testing purposes and is mostly not experimented on normal players.
"You get all smileys and blocks and all classics and ALLL AAAAAHHGH YOU get EVERYTHING with GOLD MEMbership" - NOPE, unlike Builders Club, GM doesn't offer you access to almost everything. You keep all your items with additional GM features, listed above. No more no less.
References