EX Crew
From EEWiki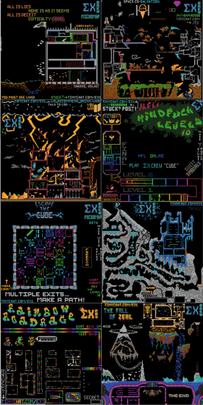 The EX Crew are a group of collaborators who develop and create maps in Everybody Edits. The group created several popular levels, mostly of a platforming-fusion genre. The EX Crew is generally beloved in Everybody Edits. The primary founders include MFL, MIHB, and mustang. The following is taken from the EX Crew General Discussion thread on the Everybody Edits Forum and has been directly contributed to by EX Crew member mustang.
History
The EX Crew was created in May of 2010 when MIHB and Mustang began discussing the idea in a boss room. After meeting each other several times they met Smiley, who would become a future EX Crew member. On June 12, 2010* the three worked on their first map called Seize the Throne. All three met again one day later to work on their second map, The Tower of Babel, a map that would later be remade under the EX Crew name. However, several game crashes erased their worlds which discouraged them, eventually causing the group to drift apart.
However, MIHB and Mustang accidently met in MF Levels 8, which convinced them to restart their collaboration with the previously abandoned maps, along with MF Levels by MFL. On June 24th the EX Crew created Ascend the Throne, characterized by a dragon and airship attacking a castle. Unfortunately, the world crashed before it was completed. The next collaboration was on June 30th for The Fall of Zeal, but crashed early in its production as well. Despite the setbacks, MFL, MIHB, and Mustang decided to officially found the EX Crew in early July.
Although not originally intended for public release, the map Ice Level by MIHB (a precursor to the later EX Crew map under the same name) was released on July 5th, and it was a quite success, attracting many new members into the group. This was followed by the first collaboration under the EX Crew name, Wrath of Vesuvius, which had a volcano theme and was released on July 8th. These first two maps were not as well-known due to the EX Crew's obscurity, but it provided the EX Crew with a chance to recruit new members and to solidify their map making techniques. It was at this time that the EX Crew acquired Aslai's EE Animator, allowing them to design maps offline, implement animation, and upload them. These new abilities would increase the quality of their later maps, and ended the fear of map crashes. This would eventually allow them to make a new map once every week.
The second map released on July 10th, OH SHIT BEARS, quickly shot to the top of the charts and proved to be the breakthrough first hit, becoming one of the most popular maps ever made. The map was noted for its design, difficulty, and creativity. They quickly became the most popular map creators, and their team rose to about 15 users. Over the course of the summer, as the advent of the forums and physics changes came, they became more and more popular, so much so that their last few maps had several thousand plays each.
On August 18, 2010, MIHB, one of the founders, posted "Farewell from EX Crew and map-making clinic" on EE Forums, detailing that the founding members would no longer be able to keep making maps, and that the other members were going to try and make maps as much as they possibly could. EX Crew would be disbanded, with one final upload of all their maps on the same night. MIHB also promised to answer all questions pertaining to map-making in their tinychat. The news came as a great shock to the players, and apparently some of the members themselves, and prompted outpouring affection from the community. The EX Crew was a pioneering experiment in group collaboration, and they are generally considered to be the most influential and important group Everybody Edits has ever known. Their levels inspired many new groups to be formed.
After the EX Crew disbanded, many of their old levels were often re-uploaded, and recently a new map was released on September 13, 2010, Minigames, which indicates that the EX Crew may continue to release maps, albeit at a much slower pace. The EX Crew has continued to create and release new maps since then, including the second in the EX Pro series called Are You A God? which was hailed as the most difficult map ever made in Everybody Edits.
Maps
All legitimate maps will have the appropriate logo and all except for the EX Crue maps will also have a link to the EX Crew dedicated tinychat: tinychat.com/ex1. However, the most distinguishing feature of any EX Crew map is the integration between intricate artistry and innovative level design, except for the EX Crue brand which will focus more on humor and less on the quality of the puzzles. The EX Crew currently has four different brands for their maps.
EX Crew: The original brand balances high quality art with innovative minis and concepts. The difficulty tends to be much harder than the typical map on Everybody Edits, although some maps under this brand are easier than others.
EX Pro: These are extremely difficult maps that focus mostly on challenging minis while giving the art much less attention. These tend to be some of the hardest maps found in Everybody Edits without using cheap level design.
EX Lite: This brand is similar to an EX Crew map in terms of quality art and innovative minis, but the difficulty is much easier to allow more players to complete the map. There tends to be extra challenges for the more skilled players such as coin collection.
EX Crue: Maps under this brand are strictly for fun and focus mostly on humor. The quality of the minis in this brand will be less innovative than in the other maps since these are mostly for fun and some laughs.
| Date | Name | Minimap |
| --- | --- | --- |
| July 8th, 2010 | Wrath of Vesuvius | |
| July 10th, 2010 | OH SHIT BEARS | |
| July 14th, 2010 | Illusion | |
| July 21st, 2010 | Tower of Babel | |
| July 31st, 2010 | CUBE | |
| August 7th, 2010 | Ice Level | |
| August 10th, 2010 | Rainbow Roadrage | |
| August 16th, 2010 | The Fall of Zeal | |
| September 13th, 2010 | Trolled Minigames | |
| October 9th, 2010 | Are You A God? | |
| December 21st, 2010 | Unicorn Magic | |
| January 15th, 2011 | Bootysnatch | |
| February 17th, 2011 | Dark City | |
| May 11th, 2011 | Speed | |
| May 14th, 2011 | The Vault | |
| May 17th, 2011 | EX Crew Shift | |
| July 4th, 2011 | Anniversary | |
| July 12th, 2011 | Odyssey | |
| October 31st, 2011 | The Occult | |
| April 14th, 2012 | Forgotten Veil | |
| May 1stth, 2012 | Ment | |
| April 7th, 2015 | Rise of Zeal | |
Interaction
"Since we primarily use a private IRC channel, we are not likely to be in [tinychat.com/ex1] if a map is not up. We are not actively seeking new members, and the process of selection is itself subject to the whims of the heads. Assuredly, creative collaboration demands both exceptional talent and exacting judgment from its participants, and as such, this is what we look for in possible collaborators."