TOOP
From EEWiki
This page is a stub. You can help the wiki by expanding it.



Try visiting primary sources to find more information on the page's subject.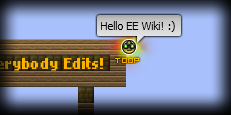 Toop
is a moderator. Toop is the Lead Graphics Designer and is responsible for making items since the Autumn Update in 2014. Toop registered to Everybody Edits on June 17, 2011, 8:11 PM GMT, yet admits to have lurked as a guest since April 2011.
[2]
Community
Toop is active in the community, discussing update ideas and listening to user feedback. Toop was also responsible for organizing the Loading Screen Contest in February of 2015.
Worlds
Toop has also created some levels with his friend Badoosh. A popular series they have created is called "Heroic Quest".
Possible future additions to the game mentioned by Toop
Toop has told us some of his update ideas. This includes the possibility of finding an alternative to adding friends by email, as well as a possibility of redesigning the shop in the future.[2]
References
↑ 2.0 2.1 http://everybodyedits.wikia.com/wiki/Toop?diff=17713&oldid=17692 - User:TOOP on everybodyedits.wikia.com, confirmed to be actually Toop - wrote this